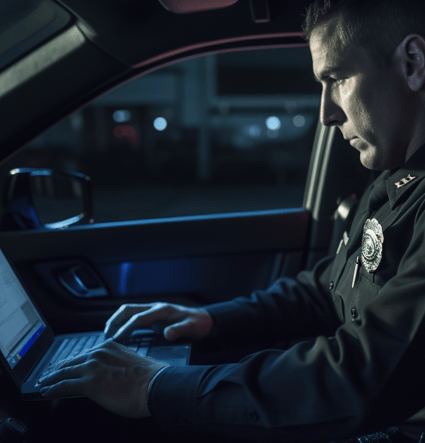 Technology use in law enforcement has increased over the last decade alongside a growing need for officers to have access to real-time connectivity and information. With the development of mobile data computers (MDCs) in an officer's car and computer-aided dispatch (CAD) systems, officers can stay better informed and prepared for all situations.
Accessing and sharing information efficiently and accurately helps agencies in many ways, from improved response times to enhanced officer safety. In this post, we'll discuss the key benefits of the real-time connection between MDC and CAD for law enforcement.


Connected, When Unconnected
The ability to access and update local data, maps, and files is one of the most significant benefits of the real-time connection between MDC and CAD software. This is a critical focus in states like Texas, where rural areas are abundant.
MDCs are often used where spotty reception leads to software performance issues. Most MDC and CAD providers are entirely cloud-based, which works for some urban areas where connectivity isn't spotty. However, an alternative is pivotal for real-time connectivity to thrive in Texas' mixed-connectivity environment. Created with public safety in mind, Athena MDC enables access to everything officers need, even if they lose connectivity.
If an officer loses connection while using Athena MDC, dispatch still has the officer's last known location; they don't disappear from the map. As soon as connectivity drops, the computer-aided dispatch police personnel will radio the officer to check in. If there's no response, dispatch can immediately deploy units to the officer's location.
With MDC and CAD, all tools still work on the police officers' end. And then, as soon as connectivity returns, Athena MDC automatically updates so that everything stays up to date.
The benefit of location, person, and vehicle alerts
Officers have access to live alerts surrounding the call history of a given address, such as:
Prior calls for service where officer safety may have been compromised
Chemical and material hazard warnings in the area
Floor plans and water sources around a specific location
Alerts for critical person details like guns, threats, dogs, and special needs
Alerts are color-coded by severity to enable a quick read and on-the-fly planning.


Enhanced Officer Safety
The real-time connection between MDC and CAD elevates officer safety by providing live access to maps and other pertinent information and through ease of use in a spotty cellular environment. The seamless partnership between the two product integrations enables essential officer safety features.
Rather than using a text-based status monitor, a GIS-centric solution helps keep officers geographically aware of the types of calls they receive and the specific locations of those calls. Officers can quickly estimate how long it will take them to assist a fellow officer in the event of a crisis or determine what prior geographic-based scenarios will affect the situation and persons at hand.
What are the key officer safety benefits?
The panic button enables an officer to silently alert dispatch and other officers that they're in trouble. This ensures officers are always safe, even when they're technically alone in their vehicles.
Location alerts feature nearby relevant security issues that could threaten officers or impact their work.
Advanced mapping calculates all responding units' distance and closing rate, cautioning a collision warning when necessary.
The MDC's intuitive and user-friendly interface minimizes taking the driver's attention away from the road and other surroundings.


Improved Reporting Capabilities
It's a waste of time and money for officers to enter incident information on multiple platforms — not to mention increasing the opportunity for errors. A multi-step reporting process can cause all kinds of delays, including issuing tickets, submitting reports, submitting to the courts, and booking detainees.
The real-time MDC and computer-aided dispatch connection enables officers to create and complete reports in the field. It eliminates the challenges officers face in taking written notes and waiting to type up their reports when they return to the station.
What are the benefits of real-time incident reports and reporting?
First responders receive immediate access to incident details and updates, helping them quickly and accurately respond to emergencies, leading to better outcomes.
The efficient jail-booking feature ensures officers can complete reporting while in the field and then quickly print the report and book the detainees when they arrive.
As incidents occur, the MDC automatically updates the CAD system with real-time data, which the reporting officer can access.
As officers work an incident, the MDC and CAD systems enable them to communicate with other officers, improving department coordination and faster decision-making.


The Real-Time Connection Between MDC and CAD Solves Common Texas Agency Challenges
The real-time connection between MDCs and CAD systems is revolutionizing law enforcement operations. These tools enable officers to access and share critical information efficiently and accurately, leading to faster response times, enhanced officer safety, and improved reporting capabilities.
Ongoing communication and data sharing in an environment where cellular connectivity can be a challenge, it is crucial for officers and agencies to access live local data, maps, and alerts. Athena MDC features, such as the panic button, location alerts, and advanced mapping, increase officer safety and minimizes distraction on the road. Plus, the system allows officers to save time by creating and completing reports in the field while eliminating errors that occur due to repeated data entry or rushed reporting.
To learn more about how Athena MDC and Athena CAD can help keep your officers safe in a mixed-connectivity environment, schedule a demo with our knowledgeable Texas support team.